Welcome to the No Dice Wiki!
Edit
Here you'll be able to find information on the people and places in the No Dice universe. It's the place for new readers to get comfortable and for fans to dig deeper.
No Dice is a fantasy webcomic drawn by Mike Perry, updated Mondays, Wednesdays, and Fridays. There's elves, dwarves, demons, gelatinous cubes and cubelets, pumpkins, vampire escorts, and the occasional human.
Book 5 follows Claudette and Hildy through the city of Solospray. Hildy covets a piece of the priceless crystal Solanna statue. Claudette is trailing another, an enslaved Rakshasa like herself, called Isabella by her human parents. But in liberating Isabella, they find themselves targets of not only the slave traders, but a gang of mercenary hunters, and a tribe of Death Elves, seemingly under orders from Bahal himself.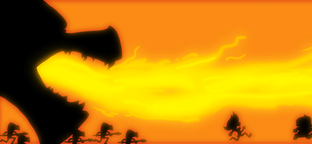 Book 4 is the tale of the gnome Plunk's stupid idea for saving the dried-up mining town of Bluerock from poverty, with the help of his dwarven neighbor Moses. Why stupid? For one thing, it ends up provoking the wrath of a dragon and a swarm of kobolds; for another thing, it presumes upon the benevolence of the succubus-like Priestess Chee'naia and her death elves.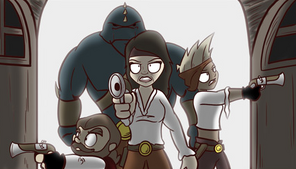 Book 3 follows Captain Josia and her crew on a northern voyage after she receives a strange vision of her lost daughter. Josia's a hard-souled sort, not one to go out of her way for anybody, but a dream of her daughter could not be ignored.
The vision leads Josia and her crew through the creaking doors of a forbidding castle - its master is here.
In Book 2, the elf Peshkar tells us about the time his baby brother accidentally summoned the Lord of the Fire Realm, and how they and their friends managed to drive the hellspawn back.
Book 1 recounts the adventures of Darrius Briggans and company in their quest to prevent the Goblin King Korrigom from releasing the imprisoned Dragon Lord Scrion.
All Around the World
Edit
The backdrops and bit players that fill up the rest of the universe.